Difference between text from 2000-2010 and current, 2018 'subscribers' edition, comes to light in the most devious of ways.
For instance, in 2018 Finnegans Wake subscribers edition, line spacing is defined as 1.3 of standard line height for better readability (lines that you are reading now are fixed at 2.0 line height). Font of the footnotes is determined as Geneva, -apple-system, system-ui, BlinkMacSystemFont, "Segoe UI", Roboto, i.e. fonts that best suit device on which footer is loaded. Device is recognized automatically. "San Francisco" is Apple System Font, "Roboto" is Andorid's, "Segoe UI" best suits Microsoft devices, etc., and font of this text is adjusted for your reading device. By the way, background of this text has the same color as blank paper of Finnegans Wake paper edition from 1975 - strangely pink un, and that background is implemented in justified version of FW text Chapter 1, through a "constant labor to make a ghimel pass through the eye of an iota" exemplified in trials to text-align: justify; which is proven nightmare and receipt for disaster for every webmaster. And look at this /* Scrollbar custom width */ which improves visual effect of an scrollbar on desktop and laptop monitors (only in Chrome browser, though):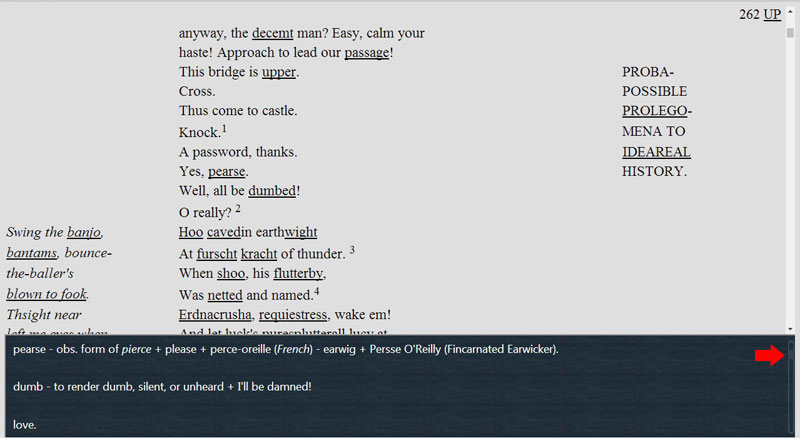 This all means that although subscribers edition looks like ideal solution for mobile devices, old school desktop devices are in no way earwigged. In fact, even more enhancements can be found on desktop and laptop monitors then on tablets & mobile phones (for instance, abovementioned scrollbar is invisible on most mobile devices). Gropesearching eyes will locate at least 20-30 more fine tunings from font size till sigla shape.
Work in Progress is chugging on justified version of Finnegans wake text together with genuine pagination, Holy Grail of responsive publishing (when a pixel is not a pixel?), results of which should be somewhere in line with this:
Adrenaline is running strong and handcrafted justified chapters are being added in subscribers section on monthly basis (in October, 2018, Book III is added). Every chapter has different background(s) until perfect one is found in unquenchable quest for ideal reading experience. As of now, the whole Book I of Finnegans Wake (8 chapters in all), and Book II (4 chapters) are revamped to be state of the art - that provides much better precision than one used in 'trial' free version on the first page - subscribers will always goaneggbetter - and in October of 2018 new navigation button is also added.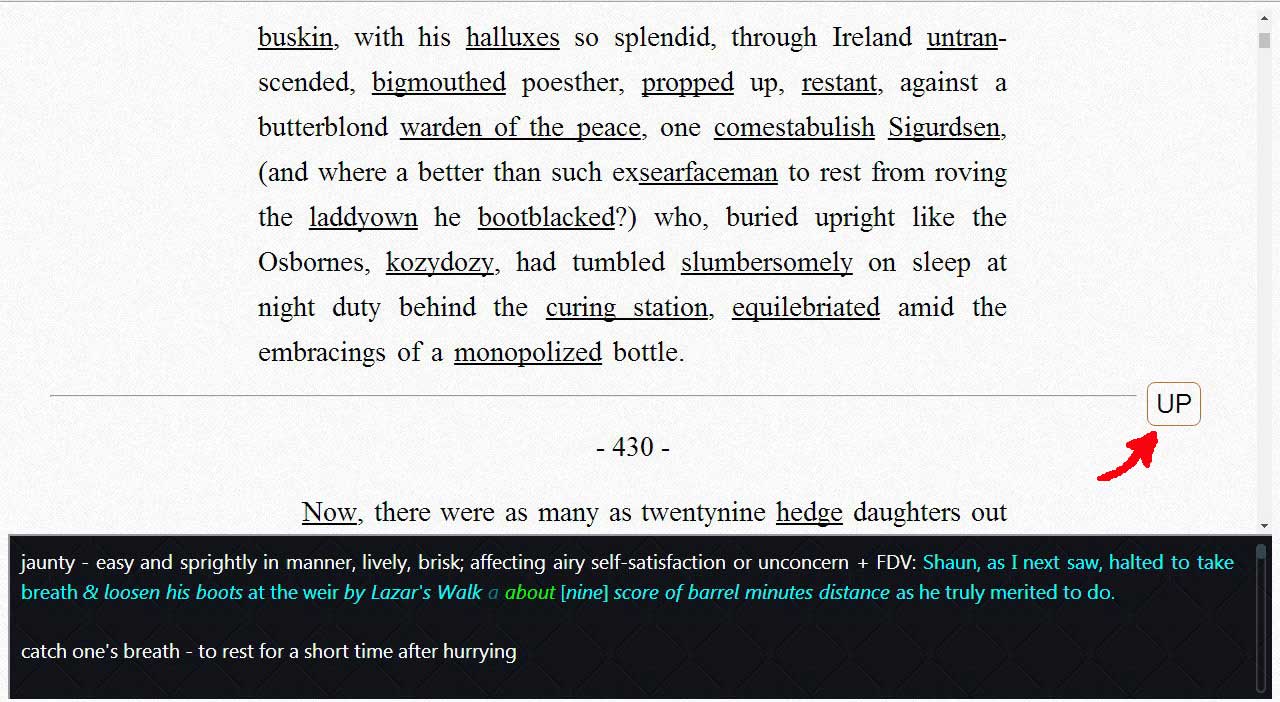 19. October, 2018.
S.S.